ALERTS
On 5-1-18 McLean County in the State of North Dakota is currently experiencing dry conditions com... [more...]
Close
Hope Ebel 2018 Miss Rodeo North Dakota
6/14/2018
The City of Max would like to welcome Hope Ebel Miss Rodeo North Dakota to The City of Max Friday, August 3, 2018 to kick off the Max Rodeo.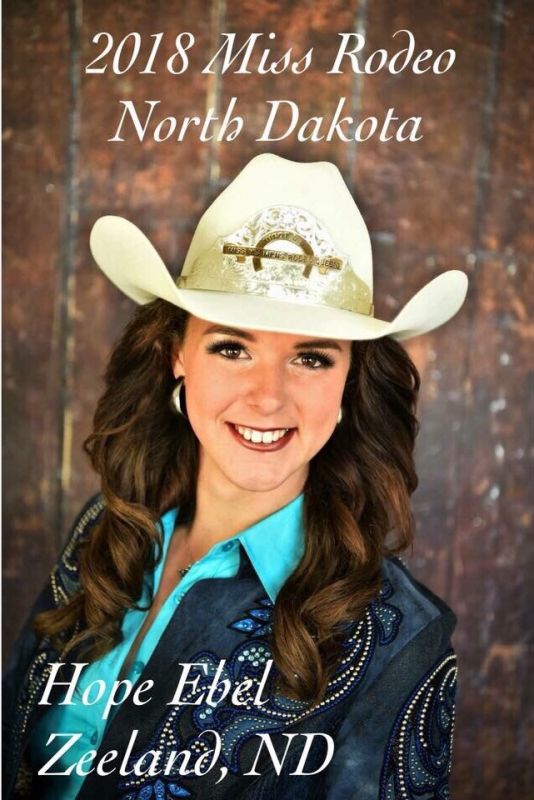 Hope Ebel was crowned Miss Rodeo North Dakota 2018 during the Badlands Circuit Finals Rodeo in Minot, ND. Competing in the state pageant as Miss Minot Y's Men's Rodeo, representing the organization that hosts the circuit finals, she earned top honors in the pageant's personality, horsemanship, and appearance categories, as well as earning herself the congeniality award.
Hope is currently an honor student at North Dakota State University in Fargo, majoring in Animal Science Biomedicine. She serves as a volunteer firefighter and emergency medical technician in her hometown community. When not in school, she works at the Ashley Veterinarian Clinic, Ashley Ambulance Service, and as a ranch-hand.
Advocating for the sport of rodeo and helping the youth is what Hope enjoys most. Her mission is to encourage all those around her to find their own path. From the branding pen to the bucking chutes, Hope thoroughly believes we're all in this world together.
Hope is the daughter of Ordeen and Kristi Ebel of Zeeland, ND; she has one sister and four brothers. Hope is blessed to have a family that supports her dreams and goals. She is proud to have grown up in the agriculture world, where livestock, fresh cut hay, and family values reign supreme.
She has been active in the Ashley Community Rodeo Club and the Beaver Valley Horse Club. Hope is honored to have had the privilege of representing the Ashley Community Rodeo Club as Miss Ashley Rodeo and the Minot Y's Men's Rodeo as Miss Minot Y's Men's Rodeo. She is thankful for all the support she's had along the way.